BYE BYE SUMMER & BUY A NEW RIDE
FREE Shipping & FREE Gift with all bikes!



LIL LONDON Citizen E-Bike 16" 1-Speed Folding Electric Bike
Looking for a mini muni commuting dynamo -- you've already arrived. The LIL' LONDON is our wee-version of the LONDON Citizen E-Bike for getting you there in a zap.
This simple, ultra-compact, folding electric bicycle sports a pedal assist and throttle e-bike system for those extra oomphs and amps. It's a folding electric bike for going and being human.
LIL' LONDON has got all of the clever features of the LONDON Citizen Bike inlcuding a cleverly hidden, seatpost integrated battery pack, but LIL' LONDON packs down super-small with a 16-inch frame for convenience and storage.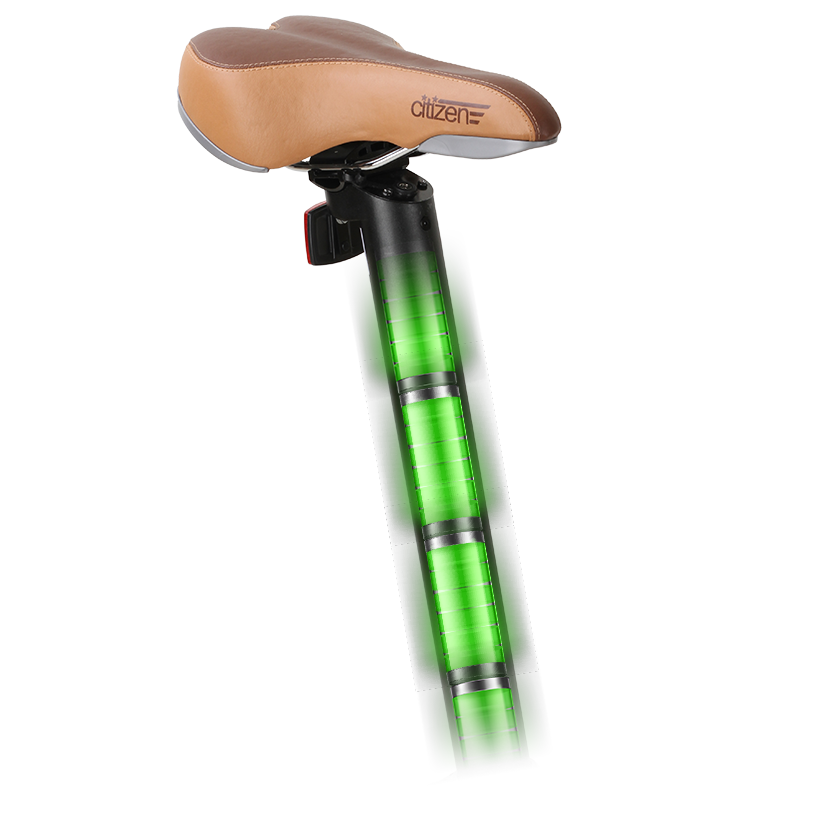 Hidden, seatpost integrated battery
Max speed

15.5 mph

Max distance

25+ mi depending on assist level

Battery

Samsung 36 V 7 AH

Motor

250 W high speed rear motor

Charge time

3 hours
A powerful, high speed 250W motor integrated in the front hub zips the LIL' LONDON Citizen E-Bike up and down and around.
A Samsung 36V battery pack is sneakily hidden inside your seatpost. It's easily removable and can be charged in or out of the bike.
Stretch your adventure or ease your commute with the this complete e-bike package.
Looking for something bigger?
Check out the commuting dynamo LONDON electric folding bike for $1,299. The LONDON is a more powerful, 7-speed version of the LIL LONDON Citizen E-Bike for getting you there in a zap.
citizens speak
some recent reviews from around the web
I received my Tokyo about a month ago and I love it. It's quality at its best and easily transported in my two seater sports car when folded up. I received several accessories that I ordered and they arrived in three days after I ordered them online. One of the accessories is an indoor exerciser that I'll use during the snowy Michigan months. I also want to thank Pablo for being so helpful with a question I on had installing one of my bike bags. Everything is well made and it's so nice to be able to talk to a real person. Excellent company!

Michael Wackerly
Bought a Miami model took it to Europe while I studied abroad. Awesome to use around campus and the city center in Salamanca, Spain.

Joan-Manuel Mena
This bike is freaking incredible. I drive a small car and wanted something I can bike in different cities with and this is perfect. The engineering is genius. It's easy to assemble even right out of the box. I am super excited!!! Like a kid on Christmas.

Michelle Chambers
I love my orange Miami!!! It's fun, cute, and the perfect size.

Tiffany Johnson
I have a Miami Citizen bike. people keep stopping me asking me about it. It's a really amazing bike. I bought one to invest in myself to help with my fitness goals. This is one of the best investments I've made for myself.

Jean Mack
I just received a Gotham 7 in pearl. It looks way better in person than online. I am very impressed by the quality and the packaging. Not one mark on my bike :). I have the upgraded white and grey seat and it matches beautifully with the white frame. I was worried the 20 inch tires would look funny being small with a high seat and handlebar but it doesn't at all. The tires look like a good size in person. I'm 5'4 140 pounds. If you're thinking twice about getting this bike don't. It's so worth it. I live in Brooklyn, NY so this is a game changer for me lol.

Loli Miller
I purchased my bike from Citizen about 1 year ago and I love it! Great people and very helpful. Their products are extremely well built and I love being able to travel with my bike, not needing a rack! Great customer service!

Lori Martini
Love my new Citizen Miami. The only problem is now my wife is going to want one :-D

Randy Shoemaker
Got one today. Cool bikes. Very good quality and priced very reasonable.

Vadim Shersher
Received my new Bike yesterday. Gotham 24/7 came fully assembled, only had to unbox, and unfold. Works great.

Ed Moffett
If there was a better way to describe how much I LOVE my bike I'd use it LOL. I got my bike in May 2016 as a birthday gift from my fiance. It has been my best friend ever since. I ride practically everywhere with it and I am always being stopped in stores and on the street when I am riding it. I easily ride at least 6-10 miles a day on it and I love it. I plan on having more adventures with my bike, which is now my best friend LOL.

Eleana Rosa
Just received my Miami. I love it so much that I just ordered 2 more! One for my husband and one for my son! Thank you!

Sue Thompson
Have the miami and Tokyo and love them. Great build quality

Felix Mizioznikov
I just finished nearly six miles on another awesome ride on my Citizen Tokyo. I have another bike, but it's hanging in the garage and hard to get down and doesn't fit in my car. The Tokyo lives in the closet when not in use. It fits behind the backseat of my Mini Cooper. It gets huge comments. I saw a man at a CicLAvia event with two little girls riding Citizen Tokyos. He said the bikes will grow with the girls. How special is that?

Crickett Hoffman
We bought my college student one for Christmas. He loves it! It was even better than expected, and he enjoyed the thoughtful pair of socks that came with the bike. We are hooked!

Kristen Penny

Details and specifications
| | |
| --- | --- |
| Frame | 16" hand-welded alloy folding frame |
| Folding | Unfolds and ready to ride in seconds. No tools required. Folds up quickly for easy storage or travel. |
| Assembly | Your LIL' LONDON Citizen Bike arrives practically fully assembled. Just follow the included instructions and you're ready to ride. |
| E-bike modes | Pedal assist and throttle |
| Motor | High speed 250 W motor |
| Battery | 36 V 7 AMP battery |
| Charge time | 3 hours |
| Max speed | 25 kmh / 15.5 mph (limited) [32 kmh / 20 mph (unlimited)] |
| Max distance | 20 - 50 km depending on assist level |
| Front fork | 16" alloy fork |
| Handlebar | Anodized alloy. |
| Stem | Anodized alloy, foldable in seconds with built in mechanism. No tools required. |
| Seatpost | Adjustable in seconds with alloy quick release clamp. No tools required. |
| Saddle | Citizen sport standard saddle (Comfort saddle optional) |
| Chainwheel | 52T chainwheel with 170mm alloy crank arms. |
| Gearing | 1-speed freewheel |
| Brakes | Disc brakes |
| Fenders | Optional fender set |
| Kickstand | Installed rear, alloy kickstand |
| Folded size | 30x26x15 in |
| Packed size | 30x26x15 in |
| Suggested rider height | Suggested for adults and teens (5'0" to 6'0") |
| Max rider weight | Supports riders up to 220 lbs. |
| Weight | 33 lbs |
| Crankarm length | 170mm |
| Length of Bike | 52 inches |
| Chainring Teeth | 52 |
| Rear Sprocket Teeth | 14 |
| Minimum saddle height | 30.5 inches |
| Maximum saddle height | 37.5 inches |
| Wheelbase | 37 inches |
| Seatpost/handlebar distance | 24 inches |
| Minimum handlebar height | 33 inches |
| Maximum handlebar height | 39 inches |
| Pedal to saddle (min) | 26 inches |
| Pedal to saddle (max) | 33 inches |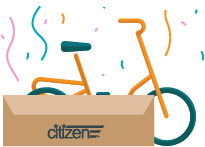 Ready to Ride
We don't expect you to be a bike mechanic, so we get everything ready to roll before we fold up and pack your bike. We lovingly install your accessories and tune-up your bike to order right here at Citizen HQ. This saves you a bundle of $$$ and the hassle of getting your bike setup at a shop.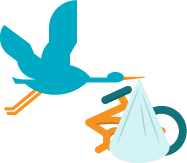 Manufacturer Direct
We only offer our bikes direct -- no big megazonic resellers or unnecessary in-betweens. Just direct from us to you. So our prices don't have any extra fluff. They represent our absolute best effort to get you the most excellent value we can.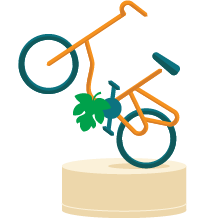 Divine design and crazy quality
We've been offering our folding bikes direct for over 15 years -- and we're always innovating and listening. Our customers are our co-pilots. Our designs represent the combined experience of our company and community to bring the best bikes and accessories at incredible prices.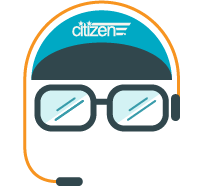 Awesome customer service
Any questions? Hello! We're here! It's us! We're ready to help. Want a recommendation based on your commute, or need some help to get going and being human -- give us a call.
Free socks
We'd give you a hug if we could. So instead, we give you the ultimate utility accessory for your bike -- socks. We love you that much. And here's a virtual hug for good measure 🤗 Happy dance not included.